Nature
Wander off alone into the middle of an old-growth forest untouched by the hands of man for hundreds of years, or drive along a winding ridgeline with the windows down and the radio blaring. The beauty of the mountains of Eastern Kentucky were billions of years in the making and have offered solitude to centuries of visitors.
From walking trails to motorcycle routes, there are countless ways to experience the natural beauty of Eastern Kentucky. Water falls, mountain streams, lakes and horse trails are waiting for your enjoyment; but don't forget to bring your camera!
Bad Branch State Nature Preserve
Letcher County
This 2,785 acre preserve protects the scenic beauty of the gorge and one of the largest concentrations of rare and uncommon species known in the state. The highlights include a forested gorge with a 60-foot waterfall tumbling over sandstone cliffs on the south face of Pine Mountain.
Blanton Forest State Nature Preserve
Harlan County
As one of 13 large old-growth tracts remaining in the eastern United States, Blanton Forest is a diverse ecological treasure. Many of the trees are 3 feet to 4 feet in diameter, towering 100 feet above the forest floor. Several trees have been dated to the late 1600s. Blanton Forest contains several forest communities, including mountaintop wetlands known as acid seeps and mixed-mesophytic deciduous forest. Many tree species such as sugar maple, tulip poplar, various oaks, hemlocks, beech and several magnolias make up the forest canopy.
Buckhorn Lake State Resort Park
Perry County
Hikers can explore the natural beauty and resources of Buckhorn Lake with a stroll along a 1.5 mile, self-guiding, easy walking trail. And the opportunities for mountain hiking are limitless. Buckhorn Lake State Resort Park offers two trails for your hiking enjoyment.
Knott County
Carr Fork, a tributary of the North Fork of the Kentucky River, is located 8.8 miles below Carr Creek Dam, and is thought to have gotten its name from William Carr, a well-known "Long Hunter" who hunted in the area. Today, the area is a family-friendly escape with plenty of water activities, including boating, fishing and swimming.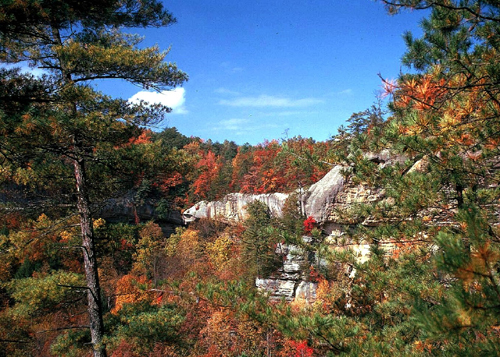 Daniel Boone National Forest
Harlan County
Kingdom Come State Park, with an elevation of 2,700 feet, is the crowning jewel in the crest of Pine Mountain near Cumberland, Kentucky. Admire the beautiful views from one of eight overlooks, hike a trail or fish for bass, crappie and trout in the lake.
Named after the popular Civil War novel, "The Little Shepherd of Kingdom Come," by Kentucky author John Fox Jr., the Kingdom Come State Park preserves 1,283 acres of unspoiled wilderness.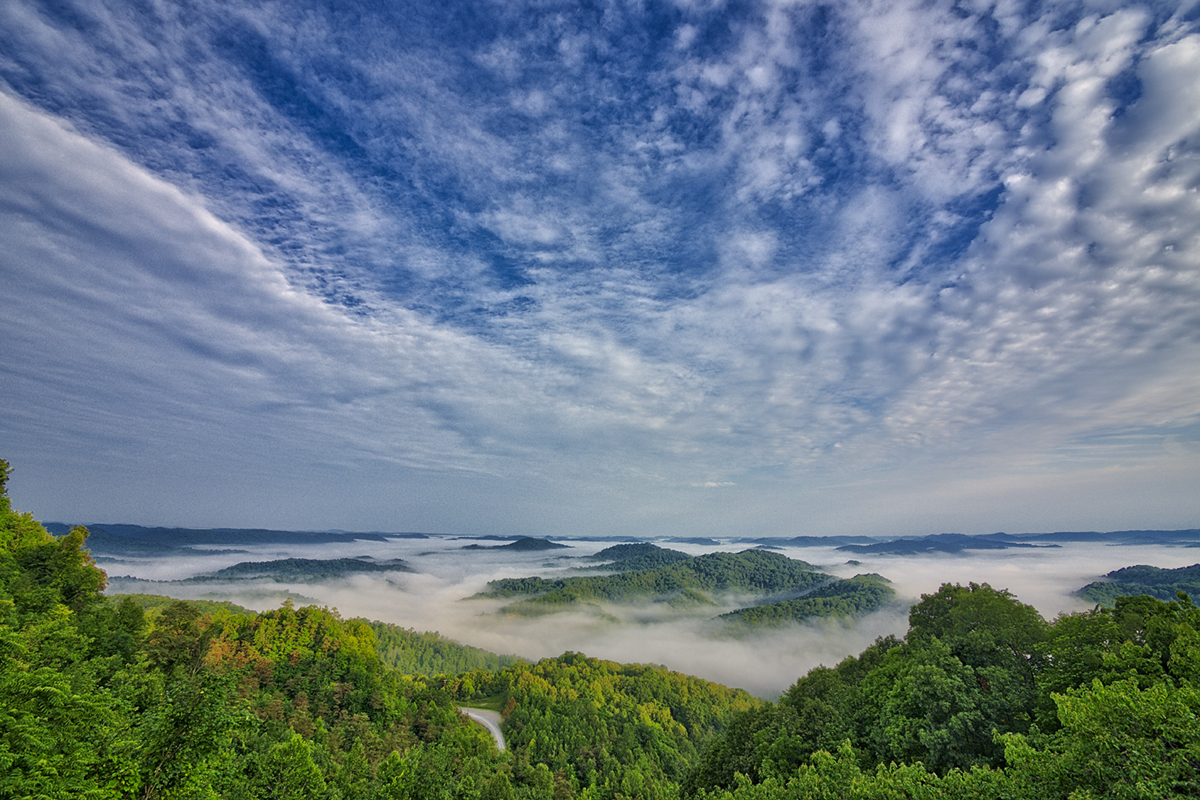 Letcher County Guided Tours
Discover Letcher County Guided Tours has something for everyone, regardless of age or fitness level.
Breathtaking mountain views, gorgeous scenery, a stunning waterfall, wildlife encounters and bird watching... that is what guests experience, when they join one of the half/full-day hiking and driving tours.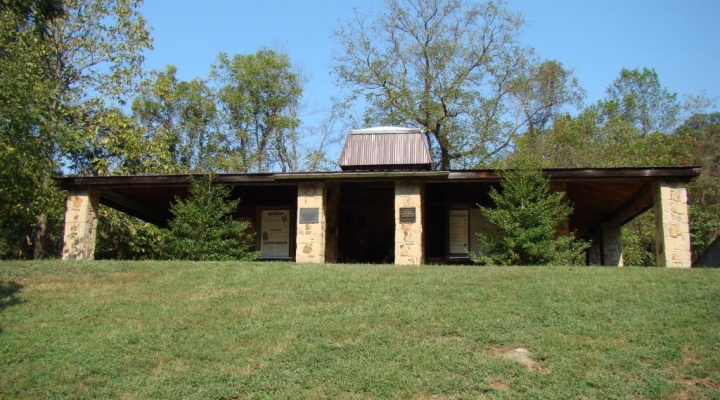 Letcher County
Located in Letcher County in the southeastern corner of Kentucky, Lilley Cornett Woods (LCW) encompasses 554 acres of mixed mesophytic forest. A portion of the total acreage, 252 acres, is designated as "old-growth" forest…a forest which has not undergone any manmade changes in 150 years.
Harlan / Letcher Counties
Little Shepherd is a leg of the Pine Mountain State Scenic Trail which, when completed, will cross four counties and 110 miles, connecting Breaks Interstate Park to Cumberland Gap National Historic Park.
Harlan County
The lake provides a variety of outdoor recreation opportunities for thousands of visitors each year. Because of the temperate climate and long recreation season, visitors have numerous activities from which to choose, including: fishing, hunting, picnicking, camping, sunbathing, hiking, boating, and others. Martins Fork Lake provides lakeside recreation for Harlan County and the surrounding area.
Perry County
Approximately 5 miles on the North Fork of the Kentucky River. Allow 2-3 hrs to complete. Difficulty: Easy (and relaxing).
Trail Activities: Kayak, raft and float, fishing (Small Mouth, Redeye, Kentucky Bass, Muskie, and occasionally a Trout). It is possible to see cranes, deer, fox, otters, beavers and other wildlife.
Pine Mountain Settlement School
Harlan County
In the heart of Kentucky's coalfields, Pine Mountain Settlement School is reigniting a vision so old it is new again. Visit, support, and advocate for the beautiful people, children, cultures, and wildlands of the Kentucky Mountains.
Perry County
Check out the new walking trails at the Perry County Park. You may enter the trails at the back of the softball field or at the horse ring. Trails are designed for several levels of hiking experience.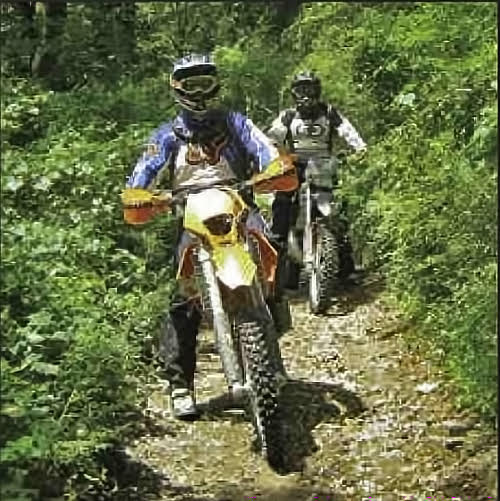 Leslie County
The Redbird Crest Trail is developed for off-highway vehicle riders, hikers, horseback riders and mountain bikers to enjoy year round. The trail makes a loop that begins and ends near the Redbird District office. Two inner loops and a connector trail to a private off-highway vehicle campground add to the recreational experience.
The trail has three developed trailheads with vehicle parking. Signs at each trailhead indicate the type of use permitted along each section of trail.